Discover the beautiful Maltese Capital!
Stay in Valletta Apartments 19
Location, Luxury, Comfort
Our Apartments
Found in the heart of Malta's capital city, the apartment block situated on the upper part of the renowned St. Paul street close to all amenities. It has just been renovated to a very high standard level finishes, whilst maintaining the original features of the era.

The 5-star apartments are bright airy and have all the necessities, equipped with all the facilities to give you the best comfort one would need for a perfect stay.

The roof terrace is another plus at Valletta Apartments 19 where our guests can enjoy some free time, enjoying breathtaking views of the capital city and the Grand Harbor a world heritage site. The place offers spectacular views of the three cities Cospicua, Victoriosa and Senglea, both in daylight and also after sunset.

In response to corona virus (COVID-19) new reality, additional safety and sanitization measures are in affect through out the premises according to the guide lines provided by health authorities, in order to ensure a secure environment for your stay.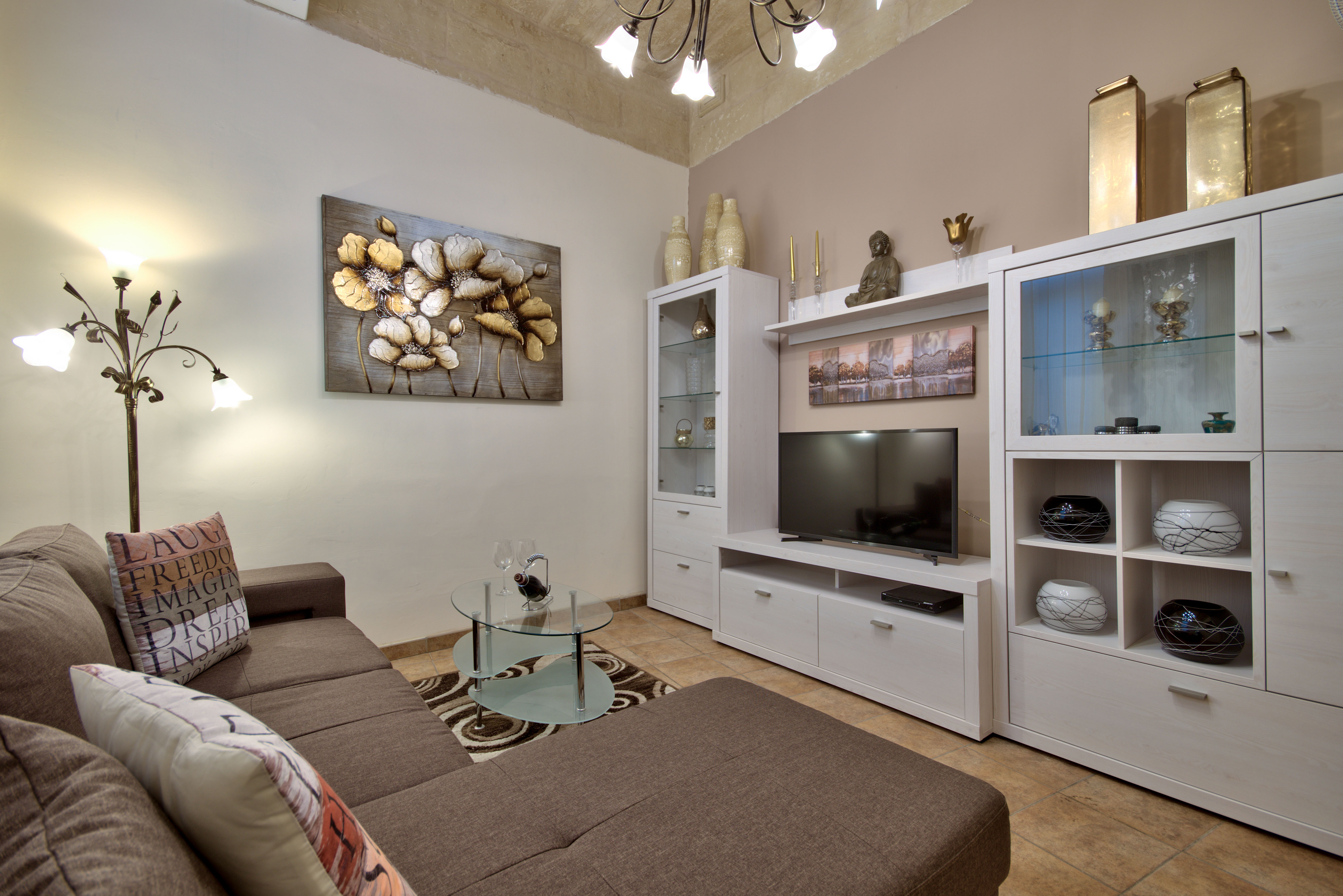 What people say about us
Testimonials
The apartment is ideally located in the heart of the city center (yet well soundproofed), very clean, well equipped, functional. The bedding is of very good quality so we had a good rest. Don't forget the elevator, especially for the higher levels (which was our case). But the absolute most of this apartment are the 4 roof terraces, with permanent access, day and night, for all the tourists staying at Valletta Apartments 19. From there the magnificent view of the Co-Cathedral St John and on the Grand Harbor is breathtaking! Patrick, our host, was very kind, very professional and always available! Thank you Patrick and Diane! We would love to come back one day! When you find perfection, why look elsewhere! To recommend absolutely.
The whole experience from start to finish with this booking was great. We initially booked to stay in Sept 2020 but had to postpone because of the pandemic. Patrick was most helpful and we were able to re-schedule for when we could travel. Patrick made arrangements for a taxi to collect us from the airport and was waiting on the doorstep of the property to welcome us and show us around. The apartment is very well equipped and couldn't of asked for more, there was even a little welcome package of basics to get us started. Everywhere was spotlessly clean, lovely comfortable bed and good shower. The roof terraces were beautiful and well furnished with great views over the Grand Harbour. The location of the apartment is perfect with easy access to the restaurants and shops but far enough away from the hustle and bustle. We only had to contact Patrick once during the week to help us book our antigen tests before flying home and he responded immediately and sorted it out for us. It was very reassuring knowing that he was there if we needed anything. Overall we had a lovely holiday and couldn't recommend staying here enough, we will definitely being returning.
Beautiful Apartment, lovingly furnished with large rooms and partly stone walls and a real Maltese balcony. Incredible flair and you feel totally comfortable. Very different from many other apartments, which are only appropriately furnished, you feel this is a small home. Patrick the host was super nice and helpful and was available whenever we had questions again and again. Thank you very much for that. Stunning also the huge roof terrace with its many areas and the wonderful view over Valletta and the Grand Harbour. Everything lovingly designed, very clean and thought of so many little things, such as adapters for power plugs, extra locker for door card, water, milk, fruit and toast on arrival and and and so on. Here you can tell that Patrick and his wife Diane run the Apartments with a lot of heart and love stick in them. Also the location on St Paul's Street was absolutely perfect for Valletta, easy to find, and everything within 5min immediately. If Valletta again, then again with Patrick and Diane.
5 Star Caliber Apartment
My wife and I stayed in this apartment for three weeks in 2019. We loved it so much we returned for four weeks this January. Patrick, our host, owns three identical units in his gorgeous building. Ours was on the top floor both times, with only a spectacular, multi-level terrace above. Superbly located, large and super clean, our unit exceeded our expectation in every respect. We have stayed in dozens of European long-stay units over the years, but Patrick's apartment is our absolute favorite. We have already arranged to return in January, 2021, booking two of the apartments in order to accommodate other members of our family. Patrick helped make our stays superb. He is very welcoming, helpful, and instantly responsive to any request. The tasteful furnishings and decoration make this apartment feel like home. Assist from our own plans to return, we intend to recommend Patrick's apartments to many of our traveling friends in Canada. Peter and Gaye Victoria, BC, Canada
What a find!
Our holiday in Malta was made by staying in a delightful apartment in Valletta. Patrick greeted us on arrival, presented us with a pack of food things, made helpful suggestions as to what to do in Malta and where to eat. He made great suggestions. The apartment was so easy to live in - everything worked. It also has a 3 level roof terrace that we had breakfast on and evening drinks.
A gem in the heart of Valetta
The appartment was perfect and even better than in the description. Everything has been thought of, even adapter plugs and umbrellas. We particularly appreciated the ample cupboard space which mean we could live tidily and not loose things. The equipment was of a high standard and everything worked. It was a perfect base and meant we could enjoy our time in Valletta. Patrick was very careful to tell us and show us everything we needed to know and is a most considerate person. We had no problems but were confident had there been any he would have responded very quickly.
Wouldn't hesitate to recommend this place
This apartment is clean, tidy, well equipped and situated right in the city of Valletta itself. What's more our host, Patrick Azzopardi, could not have been more obliging - it was reassuring to know that if anything untoward occurred he would be available instantly.
Clean, comfortable and great location
Superb location and Patrick was a wonderful host. Apartment had everything needed and welcome pack a lovely touch. Would definitely return. Holiday cut short due to unforeseen circumstances but Patrick very understanding.
An ideal apartment in a perfect location
This apartment is in central Valletta making it convenient for visiting the city's major tourist attractions as all are within easy walking distance. For visiting further afield the bus station is under 10 minutes walk away. The apartment itself is well equipped and very clean with the bonus of a fantastic roof terrace with its panoramic views of the city. Patrick, the owner, takes great pride in the property and is only too pleased to be able to help his guests to have a wonderful holiday.
Gallery
Dream of your next stay in Malta
Malta packs glorious variety into its small archipelago. You'll find prehistoric temples dating 5000 years, fortified capital city built by the Knights of St John, fossil-studded cliffs, hidden coves, churches tower over quiet villages, red-gold beaches, deep blue sea thrilling scuba diving and a history of remarkable intensity. Grand Harbour in Valletta is a magical experience.
The Maltese people are warm and welcoming, Traditional Maltese food mixes Sicilian and Middle Eastern flavours, while making use of local ingredients such as rabbit and honey.